Andrew, Cait and I took a trip to New York City on Sunday. It was the first trip to the Big Apple for Cait. I think the only time she closed her gaping mouth was to chew food! Andrew had been there on several occasions for book dealings with publishers, agents, etc. But I was the official hometown girl. I'd had an office there for 12 years, right across from Carnegie Hall, and had lived there for several of those twelve; so I got to play host, tour guide, taxi driver, and raconteur. You can't live in New York City for that long and not accumulate a ton of stories.
While the catalyst for the trip was the Dog Writer's Association of America's Awards Banquet, we decided to make a day of it. We had beautiful blue skies for the drive, and made it the whole way without a hitch. Since we only had a limited amount of time, Cait was given a few places from which to choose. She wanted to see the Metropolitan Museum of Art. (I secretly jumped for joy at her choice. The Met is one of my all-time favorite museums!)
Here's Cait and Andrew hiking up the front steps.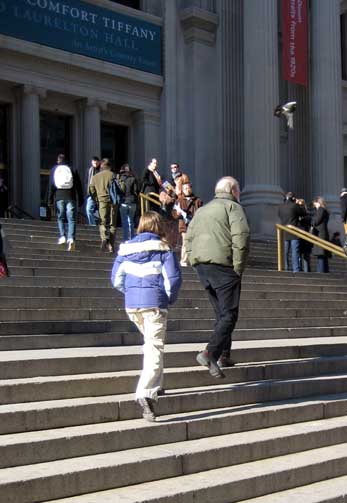 Cait's favorite exhibits were the Musical Instruments exhibit and the Egyptian exhibit. No words can do either justice. Here's a photo Cait took of a sarcophagus.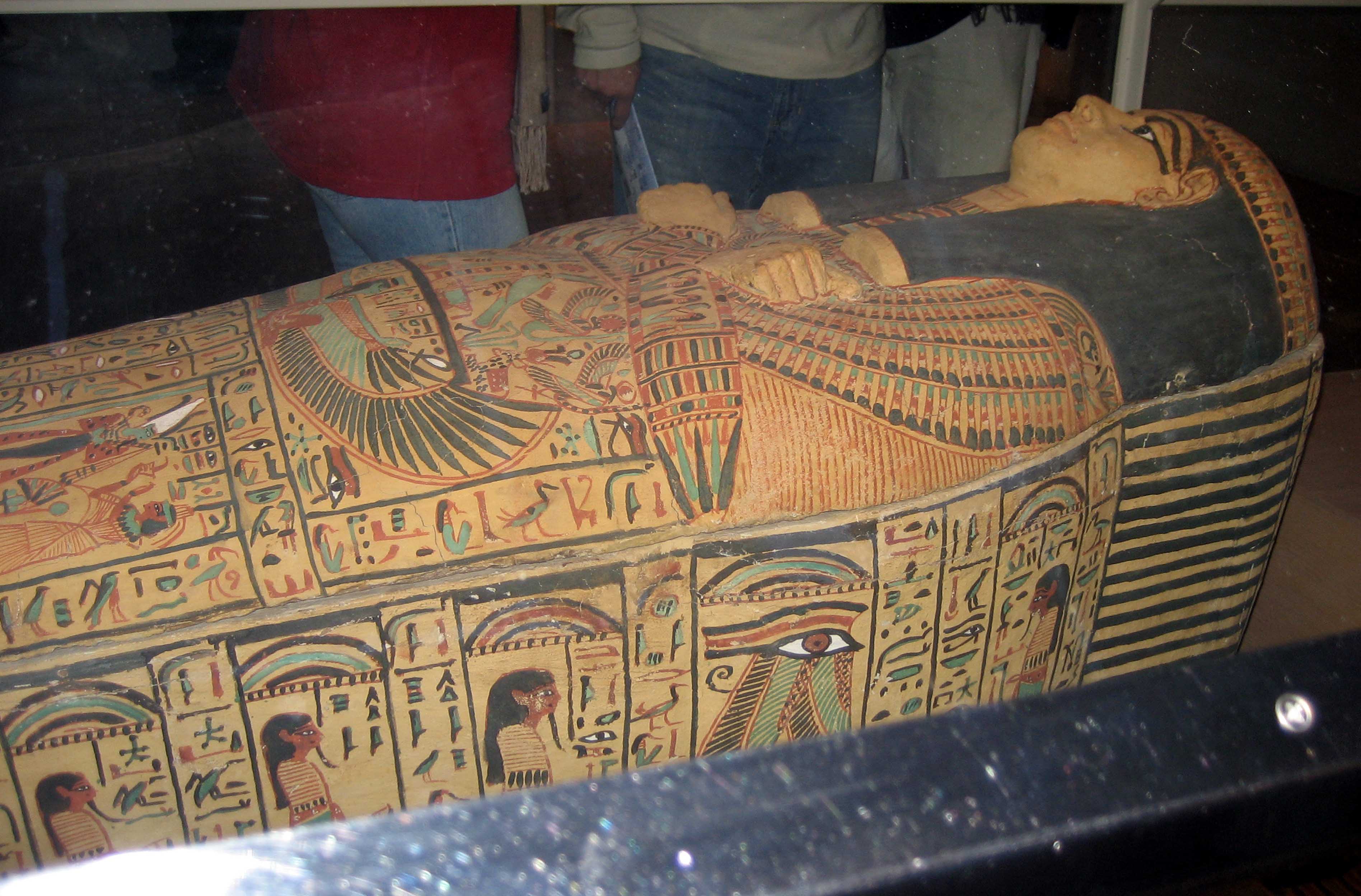 When I was in my early twenties, I had a going stained glass business and copied many a Tiffany design for my clients. So, of course, the Tiffany exhibit was my favorite. Andrew really enjoyed the 19th century painters and the Egyptian hieroglyph drawings. We all had a good laugh walking through the modern art exhibit. And we all agreed the Armor exhibit was macabre, the religious paintings were mostly morbid, and the fashion exhibit, while really something to see, was way too cramped in a little gallery down on the ground floor.
After we'd spent three hours sprinting through all three floors (Cait didn't want to miss an exhibit), it was time to head downtown. We took a spin down Madison Ave, over through Central Park, across to Columbus Circle, down West 57th Street (to show Cait my office) over to Broadway (to show Cait where my apartment was), down Broadway to Times Square-which really must be seen to be believed–to the Affinia Manhattan Hotel on 31st, where the DWAA Award Banquet was being held, across from Madison Square Garden and the Westminster Dog Show.
I won't keep you in suspense. Dogs of Dreamtime didn't win. Dog Heroes of September 11th by Nona Kilgore Bauer did. When we first got there, Andrew took one look at list of the nominees, saw that title, laughed and said, "Game Over. Let's eat and run!" LOL. How do you compete with the story of Search and Rescue dogs who served an important role in a national tragedy? You don't. You just smile and applaud with genuine appreciation.
With that suspense behind us, I have to say, the highlight of the evening was our table companions. We had the good luck to sit with Gina Mireault, a freelance writer, and her daughter Lynn (who just happened to be Cait's age), and Sarah Ferrell, an author and columnist, and her friend Nancy. Gina also just happened to have a couple of Aussies too. Kids and dogs the same age are all two moms need to start yakking away. She felt like a long lost friend by the end of the evening. And Sarah… well Sarah was just a scream. She kept us in stitches with her tales of previous dog and cat award banquets. The night flew by.
We didn't come home entirely empty-handed. DWAA gave everyone over-stuffed goodie bags. Here's what was in mine.