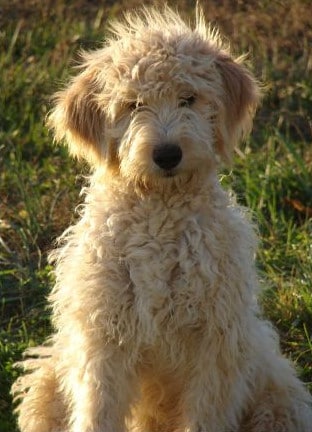 People who work in Rescue have learned to get pretty creative when it comes to writing descriptions for challenging dogs they hope to find good homes for. This ad (written by a friend) works hard at both making this rescue dog seem appealing, while giving the clear message that he'd be a handful in the wrong home. This is the best kind of "truth in advertising."
Pogo 16 months old, Goldendoodle, 45 pounds, Blonde with Apricot "racing stripe"  down his back.
I'm a "Diva Dude!" I like to have my hair brushed. I like to have people fuss over me. I like to learn new and interesting things. I like to have people tell me how smart I am!
I will be accepting interviews shortly to help me locate the person I am looking for. Your qualifications must be:
[fusion_builder_container hundred_percent="yes" overflow="visible"][fusion_builder_row][fusion_builder_column type="1_1″ background_position="left top" background_color="" border_size="" border_color="" border_style="solid" spacing="yes" background_image="" background_repeat="no-repeat" padding="" margin_top="0px" margin_bottom="0px" class="" id="" animation_type="" animation_speed="0.3″ animation_direction="left" hide_on_mobile="no" center_content="no" min_height="none"][expand title="Continue Reading"]
Allergic to Children
Strong Leadership without using dominance or intimidation
Good calm communication skills
Ability to teach without the use of special collars or trickery
Willing to step up and take charge consistently
Willing to commit to grooming requirements of a poodly coat.
Possible other dog, but we would need to meet to make sure we are a good fit and the dog can keep up with my demanding schedule of activities
A Plus, would be if you are really good at teaching me things to keep my mind in sharp order. (I would love to learn agility or clicker or targeting)
If you are really dog-smart and you have a good grasp as to what it takes to be a "Diva Dude Mentor", lets talk!
Pogo is a really good dog as long as he is given good clear consistent leadership signals. When screening applicants he will be looking for someone who is open to learn what it takes to be a good leader for him.
 He is much like many other Divas; you give him an inch he will take it and then ask for more. He uses his uncanny charm to get what he wants. We will be looking for someone who wont fall for that adorable face, those batting eyelashes or that perky little butt wiggle, so we can assure that  Pogo gets what he NEEDS not what he wants.
With the help of this well-written ad, Pogo got what he needed. He was promptly adopted by a well-screened woman and they've been living happily ever after for several months now. I just love happy endings! : ) [/expand]
[/fusion_builder_column][/fusion_builder_row][/fusion_builder_container]