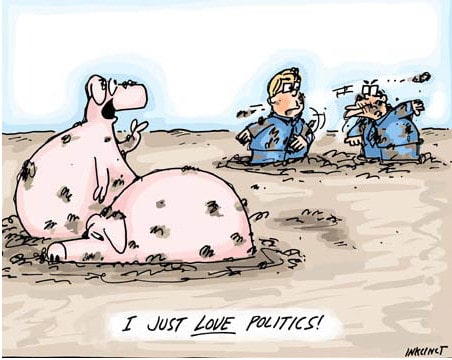 I have to say, I'm not fond of election years. There's enough political mud-slinging, lies, and outright disinformation to fill the Grand Canyon, with enough left over to fill the Mariana Trench. (I wish I could say I meant that as hyperbole…)
I'm especially not fond of the onslaught of forwarded blast emails by concerned citizens (typically originating from political shills) sharing "vital" information that those of us with lesser brains need to be made aware.
To help you sift and sort through the miasma, here is a listing of some of my favorite legitimate fact-checking sites. I've excerpted descriptions of each site from the article, Internet research for the careful citizen by Kathleen Atkins. This way, when you are the recipient of concerned friends forwarding blast emails without first checking the veracity of the content, now you can get to the bottom of it for yourself! Happy Truth Hunting! And don't forget to vote at every opportunity– read Seth Godin's interesting take on why it matters now more than ever.
Respected fact-checking Sites and sources:

If the topic giving you a headache or heartburn is a public-affairs controversy, three of the most respected fact-checking resources are FactCheck.org, The Fact Checker (Washington Post), and PolitiFact.com. All three use a similar format: they present the original text and then compare what was said to the known facts.

FactCheck.org is a project of the Annenberg Public Policy Center at the University of Pennsylvania. It's billed as a nonpartisan, nonprofit organization that verifies or debunks statements by and about politicians in speeches, ads, press releases, debates, interviews, and mass e-mailings. The organization publishes its findings on its website and also distributes material via podcast. FactCheck.org discloses its own funding sources on its site. Its archives go back to 2003.

The Fact Checker is a widely read column and blog by respected Washington Post reporter Glenn Kessler. He rates the veracity of political statements in a five-level range. (Kessler assigns four Pinocchios for whoppers and a Gepetto to those rare statements that are completely true.) Although his assessments have been criticized by partisans from both left and right, he's generally considered an evenhanded evaluator. The Fact Checker website archives go back to September 2007.

The PolitiFact website is owned and operated by the Tampa Bay Times. It publishes the Truth-O-Meter rating system, in which a true statement is identified as True and a bold, complete lie is rated Pants on Fire (from the taunt "Liar, liar, pants on fire"). The system allows for degrees of truth in between. Political commentators across the entire ideological spectrum have disputed PolitiFact's evaluations, but the website's judgments are widely quoted.

Snopes: Against the whole wide world of untruths

Snopes, with its official title, "Urban Legends Reference Pages," speaks to the range of its interest. The Snopes researchers don't hesitate to take on politics, but they also identify urban legends, folklore, myths, rumors, frauds, and scams in subject categories ranging from autos to weddings. The site gets about 300,000 daily visits, and evidence compiled by Snopes researchers is widely cited in broadcast and print news.

The site evaluates videos, photographs, and other artifacts in addition to stories of questionable veracity; it invites posts to its message board and rumor submissions to its comments section. Snopes is such a widely respected debunker of falsehood that some scam artists attempt to deflect investigation by falsely asserting their claims have passed a Snopes truth test.

Encyclopedic knowledge: Free on the Web

For more home-grown research, a good starting point is Wikipedia, which is subject to constant scrutiny by other organizations across the enormous breadth of its subject areas. These days, the consensus is that Wikipedia is a generally reliable first stop when you're beginning research on a new topic.