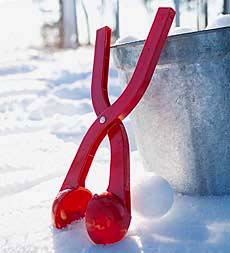 Do you remember those "What's wrong with this picture" pages in the Highlights Magazine? You know the ones where you have to find things in the picture that don't belong and circle them? If you didn't get the magazine as a kid, I'm sure you've seen them at the doctor's office.
That's the first thing I thought of when I saw The Sno-Baller® in the Plow and Hearth catalog. What's wrong with this picture? And then I though, What's wrong with the person who invented this contraption?!
I'm guessing whoever it was, was either never a kid, or absolutely was never a kid who grew up with snow.
No self-respecting kid in my neighborhood would have been seen with this sissy toy. A snow ball maker?! HA! Said owner of such contraption would have been pummeled with 50 snow balls of the hand-made variety — for heft and weight — before he even had a chance to form one perfect dainty little snow ball with this thing.
A main selling feature is touted as being that kids' gloves will stay drier and hands warmer. This is another tipoff that an android and not a human invented this.
Did you ever worry about your gloves getting wet?
Did you even wear gloves?
I rest my case.