Cait is going through "a phase" where she prefers to be independent in every imaginable way, including relationships. Some of it, I think, stems from being in a time-sucking pre-med program with a concurrent job in an ER, while looking at looming med school debt. So I wasn't surprised to get this text. Yet I can't help myself but want to encourage her to be more open to all of life.
And, just like her, she snapped me back to "just appreciate the meme" —not everything has to be a teachable moment. Copy that.
*If you can't read the yellow text on the photo, it says "I don't need a man, I need money sweetie."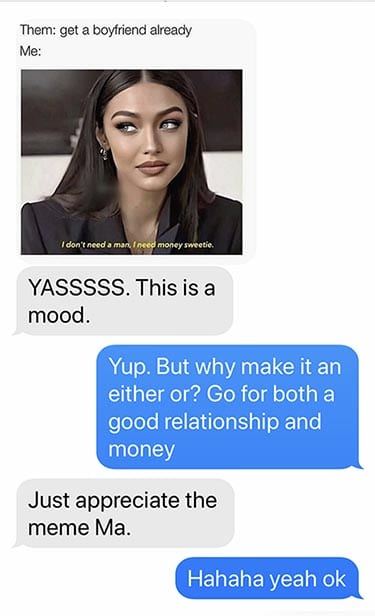 We've come to live in a complicated, splintered world where not all realities are shared equally anymore. For instance, in this age of Trump, one can choose the option of "alternative facts." The divisiveness that is happening in this country (and around the world) is like nothing I've seen in my lifetime. As someone who works hard at being clear and living a spiritual life, this is more than disconcerting.
At least in the US, the generally accepted practice has been that one should neither discuss politics nor religion in polite company. While there's a problem with that view as well, it wasn't based on fear; fear […]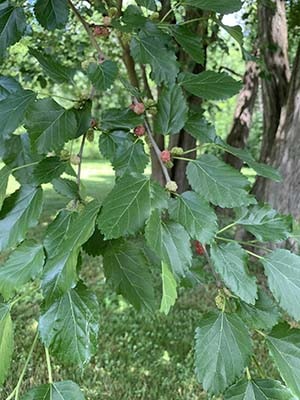 I have lived in this house, on this property, for a very long time. The longest I've lived anywhere by double.
And I like to think that I'm an observant person because I usually am.
But this totally slipped by me for who knows how long. Until a few days ago.
(Actually, it was Cait who noticed it while home because her two roommates contracted covid. But that's another story.)
A MULBERRY TREE!! Bearing mulberries. Lots of them!
So, of course, I immediately went to what is the best way to harvest the mulberries. And tah dah!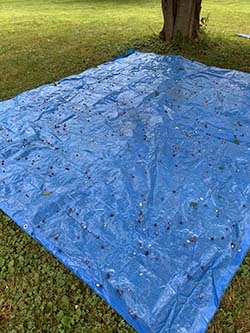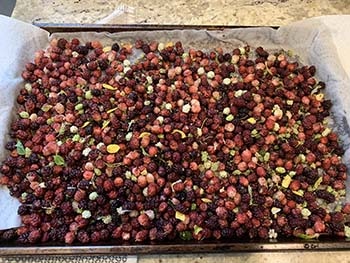 Graidy has been gone for a month now. It's been 20 years since we've been a one-dog-family. It's taking some adjusting for both me and Wink.
I worried that Wink would go into a deep depression without his best bud. And he did for a little while. But he seems to have rebounded.
In part, because he gets to do something now that rarely happened when Graidy was alive. He gets to come on walks with me now.
No matter how much I tried, I wasn't able to get Graidy to be okay leaving the property. Then I decided what's the point? If he's happiest home, why force him? But that meant […]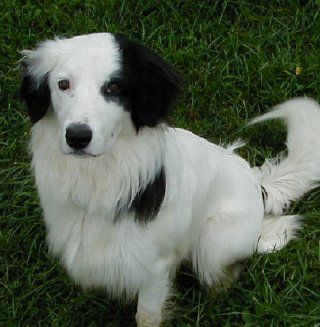 The first day I met Graidy at Glen Highland Farm Rescue.
Whenever I think of Graidy, this is the pose I think of him in the most. Facing out, looking off into the distance. In fact, this is the first vision I had of him before I even met him. I wrote this story as fiction because it's pretty fantastical about how he found me. But every word of it is true.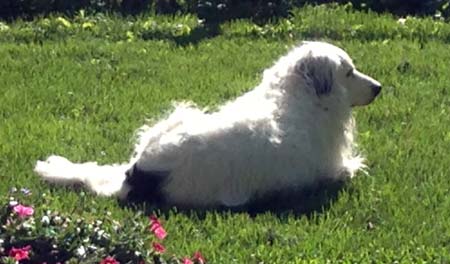 This is my favorite photo of him. It captures how I feel about him. A shimmering light in my […]