Even if you don't have your own garden, if your car's been unlocked, you've probably been anonymously gifted with enough zucchini to feed an army. We gardeners like to share the wealth, as it were…
I'm here to help save the day. I have two recipes that are guaranteed to have everyone in your family (even your vegetable-hating kids) loving zucchini and asking for more. No joke.
So without further ado: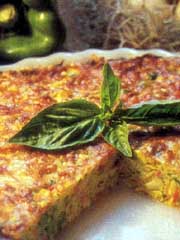 Zucchini Cauliflower Pie
I know, it sounds positively awful — zucchini and cauliflower?! How the heck did I come up with that! Can you say bumper crop of both? And what a happy surprise.
Bar none, this is a my guests' and family's all-time favorite dish.
It's a snap to make. And it's light (there's no crust) and delicious; perfect as a side dish or for a whole meal.
.
1 small onion chopped
1 tbsp butter
3 zucchini, washed and grated
1/2 head cauliflower chopped into small pieces
1 tsp white pepper (black is fine if you don't have white)
1 1/2 cup grated Cheddar or jack cheese
1/2 cup grated Parmesan cheese
1/2 cup Italian seasoned bread crumbs
3 eggs beaten
1/2 tsp thyme
Preheat oven to 350 degrees. Saute onions in butter until tender. Mix all dry ingredients together. Add onions and eggs to dry ingredients and mix until incorporated. Press mixture into an 8- or 9-inch greased pie dish and bake for 35 minutes or until center is cooked through. Best eaten while warm.
Zucchini Bread
Yeah, I know, everybody and their mother has a zucchini bread recipe. And I've probably tried them all. I'm here to tell you, this is the best one.
But don't take my word for it; try its moist, sweet goodness for yourself.
.
3 1/4 cups all-purpose flour
1 1/2 tsp salt
1 tsp ground nutmeg
1 tsp baking soda
2 tsp baking powder
1 tsp ground cinnamon
1 1/2 cups of sugar
1 1/2 cup of brown sugar
1/2 cup vegetable oil
5 eggs beaten
1/2 cup milk
3 cups grated zucchini
1 cup chopped walnuts or pecans
(my secret ingredient is 1/2 cup shredded coconut)
Preheat oven to 350 degrees. In a large bowl, combine all dry ingredients except zucchini and nuts. In a separate bowl, combine oil, eggs, milk, and zucchini. Pour wet ingredients into dry, add nuts and fold in. Bake in 2 standard loaf pans sprayed with nonstick spray, for 1 hour, or until a tester comes out clean.
Don't thank me. It's the least I can do for leaving all those zukes in unsuspecting friends' cars. Did I say that? I meant seeing others leave zukes in total strangers' cars… Yeah. That's what I meant.