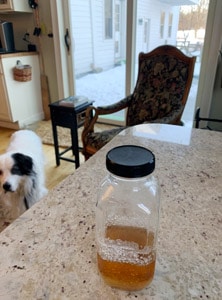 So it seems that tapping 2 maple trees gives us just enough syrup to get through until the next maple tap.
But I knew as soon as my family got a taste of this, I'd have to be making more. So, along with their annual garlic allotment,  I'll be adding 2 more trees into maple production for this year.
Though, at the moment, with daytime temps in the minus digits, it's looking like we're still a few weeks away. It'll be a race to the finish.
Speaking of which, if you haven't read this book, it will change the way you think about trees. And your relationship to them.