While this year has seen some damages to some of my fruit trees–I lost all my plum trees and one cherry tree–I continue to get a bumper crop of Asian Pears.
My three trees are bearing so many pears this year that I had to pick at least half before they were fully ripe to prevent the branches from breaking from the weight. Even with that, I lost one limb in a windstorm.
So what do you do with the first wave?
You go pick a bunch of raspberries and you make scrumptious Raspberry Asian Pear Salad with Raspberry Puree. Thinly slice a few pears, puree some raspberries. add a little sugar to taste if you like, (we prefer this without sugar), and add a squeeze of lemon. Simple and fast.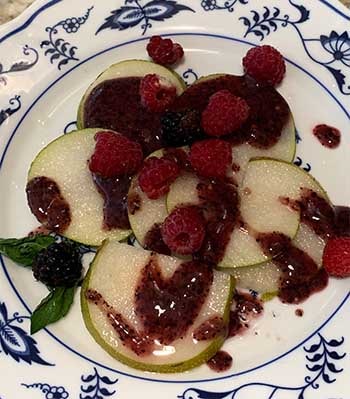 And then you dehydrate the rest and mail to kids in far-flung places so they remember the goodness of home.