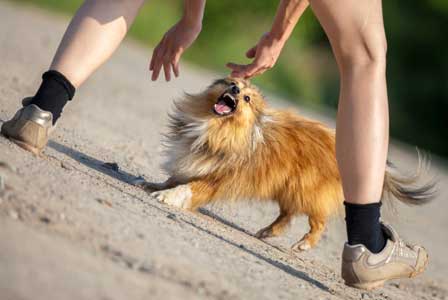 Given the right circumstances — all dogs will bite.
Oh no, you say. Not my little Fluffy! Never!
If little Fluffy hasn't bitten someone so far, it's because little Fluffy has been lucky enough not to be put in a situation that causes little Fluffy to bite. And maybe little Fluffy will continue to be lucky for the rest of her life. Let's hope so. Upwards of one million dogs — and, therefore, people — a year aren't so lucky (roughly the number of reported dog bites per year).
What Causes Dogs to Bite?
There are, in fact, many situations that may cause a dog to bite: Dogs are most likely to bite when threatened, angry, hurt, or afraid.
Like humans, dogs have two primary reflexes: fight and flight. When a dog is not able to take flight to protect itself (run away) then it is left with the option of biting out of fear or the need for self-protection. When a dog needs to defend or protect its territory, possessions, or people, it may fight — up to and including bite.
There are a multitude of variations on these themes. Following are some of the specific classes of aggression taken from Borchelt, P.L. and Voith, V.L. 1982. "Classification of Animal Behavior Problems," Vet. Clin. North Am. Small Anim. Pract. 12:571-585:
Dominance aggression: aggressive behavior usually directed to family members who take something from the dog, pet it, hold it, pick it up, or disturb it while it is resting.

Defensive or fear aggression: directed to family or strangers who approach too quickly or too closely when the dog is afraid.

Protective/territorial aggression: directed to strangers to approach the owner or the home of the owner.

Predatory aggression: directed to small, quickly moving animals and children, especially where more than one dog is involved.

Pain-elicited aggression: directed to family or strangers who approach or touch when the dog is in pain or injured.

Punishment-elicited aggression: directed to family or strangers who hit, kick or verbally assault the dog.

Redirected aggression: directed to family, strangers and animals who approach or touch the dog when it is aggressive in another context
Factors That Determine Whether a Dog Will Bite
A report by the American Veterinary Medical Association, Task Force on Canine Aggression and Human-Canine Interactions, entitled A Community Approach to Dog Bite Prevention, refers to five factors commonly associated with dog bites:
Breed and "parents" of the attacking dog: this refers to aggression as a type of behavior that has been bred into certain breeds of dogs, and characteristics of the "sire" and "bitch" that produce an individual dog.

Socialization of the dog: how the dog has been desensitized to stimuli, especially stimuli produced by children. Poor socialization results in less inhibition to bite and engage in other undesirable behavior.

Training of the dog: the nature, degree and quality of training. A dog that has been trained to threaten people is an obvious danger, but so is a dog that has been poorly trained or not trained at all.

Health of the dog: whether the dog was sick or injured. When a dog is sick or injured, or in pain, biting can result for a number of reasons.

Behavior of the victim: this includes any behavior (i.e., a baby rolling over on a bed), not just provocation (i.e., hitting the dog).
What You Can Do to Lower the Chances of Your Dog Ever Biting
First and foremost — know your breed; i.e. if you have a herding breed then you wouldn't let young children run around your yard, etc.
A close tie for first is to socialize and train your dog. Thoroughly socializing your dog in a variety of environments with a variety of people and behaviors helps desensitize it to situations that could make other dogs bite. Training your dog helps teach your dog self-discipline. And a good recall and a strong "Leave it" command are worth their weight in gold.
Do not leave your dog chained.
Do not leave your dog unattended with children.
Educate your children and your children's friends on how to behave around dogs.
Don't let your children approach or pet unfamiliar dogs — and never a dog on a chain.
Don't let other children approach your dog uninvited.
Do not let your dog roam free.
If you have two or more dogs, educate yourself on the nature of pack behavior.
If your yard is fenced, do not let your dogs race along it barking at passers-by.
If your dog has resource guarding issues, get help immediately.
If you're having strange workmen doing work, don't leave your dogs unattended, or better yet, put your dogs safely away.
To keep this in some perspective, here's a quote from Janis Bradley of, Dogs Bite: But Balloons and Slippers Are More Dangerous:

Dogs can be dangerous. And they are more dangerous to children than to adults. But here's the reality. Dogs almost never kill people. A child is more likely to die choking on a marble or a balloon, and an adult is more likely to die in a bedroom slipper related accident. Your chances of being killed by a dog a roughly one in 18 million. You are five times more likely to be killed by a bolt of lightning.
Bottom line — to keep your dogs safe, education, socialization, and training are the best defenses!
Two good books to help you better understand and train away from dog aggression are: How to Right a Dog Gone Wrong: A Road Map for Rehabilitating Aggressive Dogs, and The Culture Clash: A revolutionary new way to understanding the relationship between humans and domestic dogs.
Dogs don't come trained knowing what we expect of them. In order for them to fit well (and safely) into our families and societies, they need our guidance to do so. A dog that gets this leg up can provide us with a lifetime of joy. Sadly, many dogs are destroyed every year that wouldn't need to be if the owners had taken the time to train their dogs and educate themselves. Help your dog avoid that fate. If you have a dog that is showing any aggressive tendencies, get help immediately. Do not wait. The sooner you address the behavior, the less chance it has of becoming an ingrained way of responding. And the less chance you're giving your dog to bite.
Other posts on this topic:
Part 1: What You Can Do to Avoid Getting Bitten By a Dog — Or 10 Common Mistakes People Make in Greeting Dogs
Part 2: What You Can Do to Avoid Getting Bitten By a Dog — Learn How to Read a Dog's Body Language