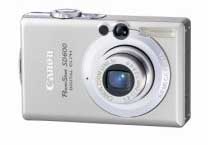 Have you noticed there've been more photos recently? That's because I finally got a new camera. I'd been using Cait's Polaroid Izone 300. While it's a fine kid's first camera, it just wasn't getting the job done for me. I am now the mostly thrilled owner of a Canon Powershot SD600 Digital Elph.
After doing some research and narrowing it down to the Sony Cybershots, and the Canon SD600, I went with the Canon. The price fit my budget (you can pick them up for under $200 now), and it had all the features I wanted without adding any extra cost for features I didn't want.
It comes with 6 megapixels (plenty for me), a 2.5 in LDC screen, a view finder (which was a must) and a digital zoom of 4x. I went with the Elph because I wanted a camera that was lightweight and would fit in my pocket. The camera also has a a bunch of scene presets, plus a VGA movie mode, which is helpful, because at this time a point-and-shoot is about all I can manage. Though I hope someday I'll have the time to learn all the intricacies of an SLR.
What I like about the camera:
It has a really fast start up and quick shutter speed. No more holding down the button for a few seconds before I can begin shooting away.
It takes great photos with sharp images and details.
It's fairly intuitive to use.
What I don't like:
It has a really flimsy door covering over the USB port plug in. Mine has already broken.
The controls could be a little more solid and better placed.
There's no easy way to tell when the battery is getting low.
Really, aside from that rickety port cover, I'm very happy with my little elph!
What camera are you using, and what do you like/dislike about it?