From the Mailbag: Hi, I'm Jared. I just visited your site,and I want to know more about the basic things I have to get them and stuff to look out for. I'm getting a Red Tri Aussie next week and I want to be a good owner.
Jared, you don't mention whether your new Red Tri Australian Shepherd is a puppy or an adult, so I'll assume you're getting a puppy.
Let me say that, in general, Australian Shepherds are not for everyone; they are herding dogs with high intelligence, agility, a strong prey drive and deep loyalty to their owner. You have to learn how to demonstrate good leadership ability in order to build a relationship both you and your dog will be happy with. Plan on spending 1 to 3 years of committed training and socialization, and you will end up with a great dog. There are no short-cuts.
So Jared, first, Congratulations on your new dog AND on your desire to want to be a good dog person! You've asked a big question, but let me see if I can help break it down into some bite-size pieces.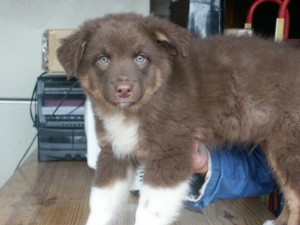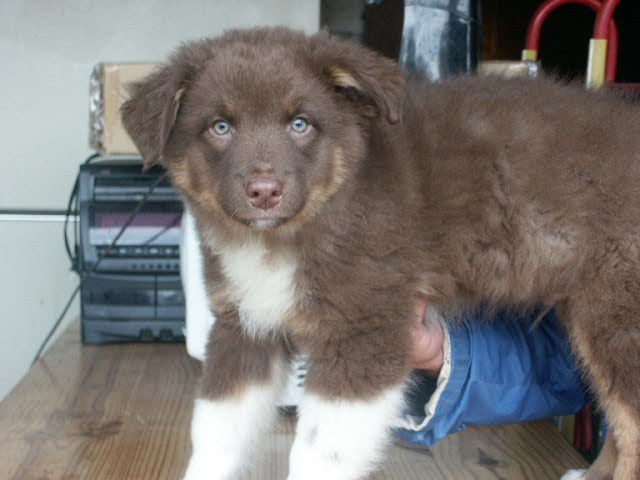 Jared's new Red Tri Australian Shepherd Pup
1. Getting Yourself Ready: Be Willing to Make the Time Commitment. Have the Right Tools.

Your new puppy is used to having its siblings for chew toys, jungle gyms, playmates, and sleeping buddies. Being removed from all it knows and being brought to someplace unfamiliar is going to be a big adjustment. To help your new friend feel safe and to help him begin bonding with you, you need to spend as much time with your puppy as you can. So make sure you plan on bringing your puppy home when you have a good chunk of time to help him acclimate. Also try to make sure that there aren't a lot of distractions or too many people coming and going for the first few days. A steady, calm environment with your puppy by your side throughout the day is the best way to start.
Make sure you have food, bowls, leashes, crates, baby gates, kongs, and fencing in place before you bring your puppy home.
2. Getting Your House Ready:  Puppy Proofing and Teething Toys.

Australian Shepherds are known for their inquisitiveness, so your new Aussie puppy will be ready and eager to learn about his new world.  That means you're going to have to make your home safe to explore. Just as with the need to baby proof a home for crawling babies, you need to puppy proof your home in much the same way. One of a puppy's greatest needs is to chew, so make sure that electrical wires are not loose and dangling, make sure that all shoes and valuables are put away or placed up high, and so on. Have a means of sectioning off areas of the house to limit puppy access through baby gates.
If you make sure your puppy has enough exercise, that will help reduce most of his chewing behavior. Remember, your puppy's need to chew isn't to be destructive (dogs don't have emotions like revenge or spite) but because he's teething. And teething hurts, so have appropriate articles and toys for him to chew on.
A product I like is "PupTeeth" to naturally relieve pain in teething puppies. It helps soothe your puppy during the teething process. Stuffed kongs are also terrific. You can keep them frozen until you need them. The cold also helps sore gums. You can find lots of good things for your puppy to chew on at the