As much as anything, what I love about gardening are the nice surprises — what I call the "Gifts" and "Guests."
The gifts come from seeds that I didn't intentionally plant.  Since I use open-pollinated seeds, and I save my own seeds from year to year, I'm always allowing a few plants to reach the stage where they can set their own seeds.  Invariably, a few of the vegetables don't get harvested and wind up composting on the ground.  When I work the ground to plant the following Spring, those seeds get disbursed around the garden.
For instance, below, in yellow, is what I intentionally planted in this bed.  The tomato plants, circled in blue, were gifts that sprouted from last year's tomatoes that fell to the ground and decomposed.  I'm especially happy about these gifts because I didn't have enough time to start many tomato seedlings for this year.  I've transplanted these tomato plants to another bed, where they'll have room to grow.
My guests are plants that found their way into my garden all on their own.  While most people consider these "guests" to be weeds,  I am just as happy to have these as I am the gifts.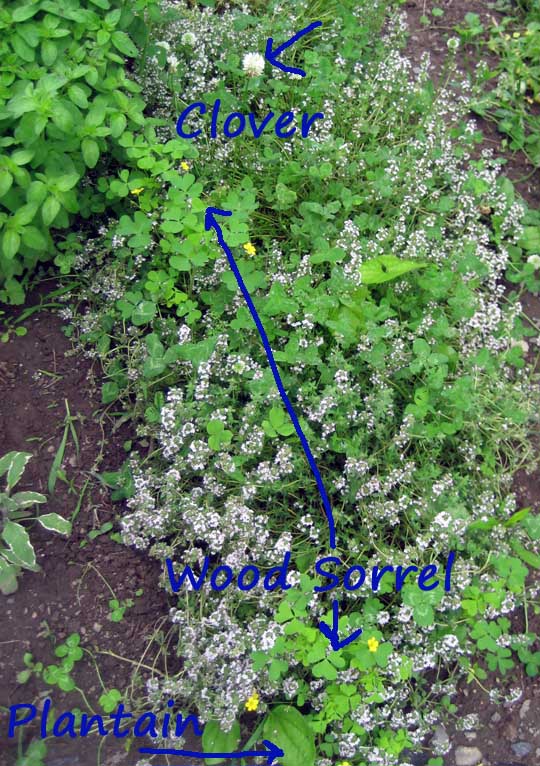 Since I'm also interested in wild edibles and have been trying to teach Cait how to recognize and collect them, it helps to have specimens growing right in my garden.
These guests have found their way into my herb bed. While the clover is edible and makes a very refreshing tea, I purposefully leave a few of these plants around my garden to attract bees. And the wood sorrel and plantain add a little extra zip to salads.
If you think you might like to try adding some wild edibles to your diet, this site, Foraging Pictures/ Edible Plants, is an easy, safe way to get started.