Lying here, coughing my brains out, I have more time than usual to contemplate the deep mysteries of life. Like why have car colors become so boring?
Think about it. What are our options? Take a look at any parking lot and this is what you'll see. All pulled out of the same sock drawer of mismatched darks and lights. Pretty darn dull if you ask me.
There was a time when you could pick a car from nearly any color in the rainbow.
Like this '68 Camero in
Lime Green.
Or
this sporty little '69 GTO orange number.
Or how about a wispy sky blue
roadster?
Or this adorable pink little getup with the white top?
Purple? Did somebody say purple?
St Paddy's Day is coming up. How about kelly green
?
And, for those of us who couldn't make up our minds,
we had two-tones.
Highways looked like cheerful rows of skittles scooting along.
And since we Americans loved our open-tops, we could see into our fellow cars to check out their snappy interiors.
Like this dapper hounds tooth.
Or this outrageous red!

And, it goes without saying, that back in these good ol' days, you'd inevitably spy one of these coughing and sputtering down the road.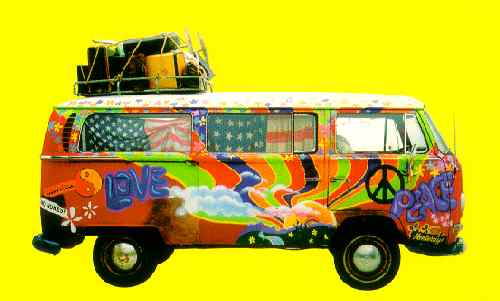 Oh, I think it's me who's coughing and sputtering. Time for a swig of codeine cough medicine and lights out. So I can continue to dream about my Technicolor cars, with bumpers that actually worked.
That's a Copy good buddy. Over and out.
But before I konk out. What would you pick for a car color, if you could pick ANY color?
Me?…
This little Austin in yellow would suit me just fine.