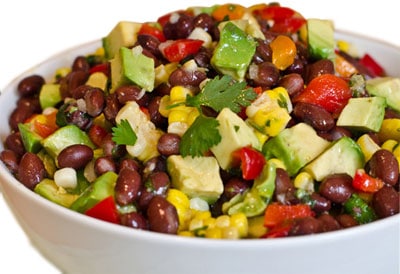 I know, there are a bazillion salsa/salad recipes, so why do you need another one? Of all my dishes, this one NEVER fails to get rave reviews–no matter how fussy the eaters! There's something about the combination of flavors that seems to make every mouth happy.  Even though it's really just a tricked out Black Bean and Corn Salad, it's been dubbed "Confetti Salad" at our house because it's so colorful.
The great thing about this salsa is that you can vary ingredients or amounts to your heart's content, and it will still taste great! Without further ado–here's the recipe:
Confetti Salad Recipe
1 can of black beans rinsed
1 can of white shoepeg corn rinsed
1 large tomato diced in small cubes
1 cucumber seeded and diced in small cubes
1 small red bell pepper
1/2 cup of fresh parsley chopped (I don't like cilantro, but if you do feel free to substitute)
1/2 red onion or sweet Vidalia onion finely chopped
2 cloves garlic finely minced
1 avocado diced
1/3 cup fresh mint chopped (my secret ingredient that makes this dish killer!)
1 lime juiced
A splash of Olive Oil (approx. 2 tablespoons)
Salt and Pepper to taste
Combine ingredients and dig in with your favorite Tostitos chips. Or, for best flavor, let marinate in the fridge until cold.