Dawn, one of my loyal readers, and a fellow Aussie lover, just shared some pics of her brand new Aussie boy! Oh. My. Word!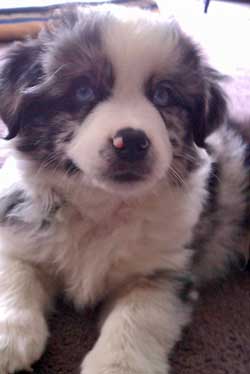 If this doesn't make you want to get a new puppy…! : ) Blue is a blue merle, mini-Aussie.
Here's Dawn's latest update: He was born on March 10 and we have decided to call him Blue. We have had him 16 days now. The other 2 dogs have gotten used to him finally!!
He is very smart. Already house trained (Without a crate), knows how to sit & come, learned how to go up the stairs after being showed 1 time, passes the time bird watching, and we are working on shake.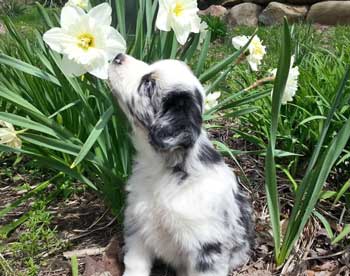 He loves to play frisbee but his most favorite thing to do is to dig! Oh how he LOVES to dig lol!! I will have to snap a few pictures of him doing his favorite things.
He is a mini aussie but the Vet thinks he will be around 30-35 lbs. He has already gained 4 lbs!! We are taking him out a lot to get him socialized. Lots of work :)
Dawn is quick to say (and I heartily second) that Aussies aren't for everyone. "The toughest part is when I share him on Facebook, people just see his beauty and always comment on how they want an Aussie! I have done a lot of discouraging and told people to PLEASE research dog breeds before getting a dog. These dogs are a lot of work. They are very intelligent and need owners who understand the breed!!"