Without Graidy as Wink's point person, he has become even more attached to me, if that's possible. Which means he doesn't do well when I'm not in his immediate orbit.
So I stopped going for walks because Wink, at 12 1/2 years old, can't walk as far as I like to go. Then I thought–that's silly, there must be a solution. And sure enough…
I found this No-Zip Expedition Zipperless Entry Pet Stroller on Amazon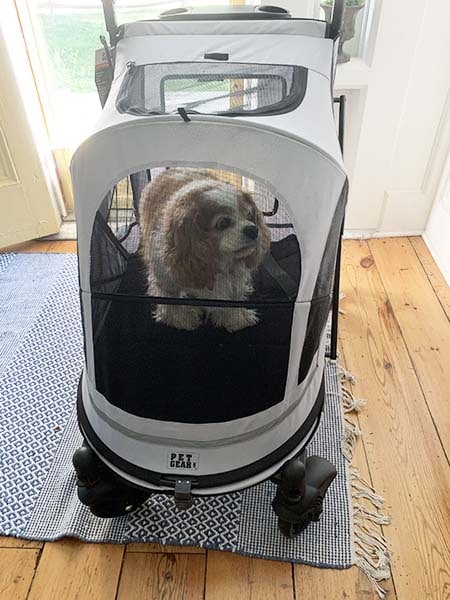 REVIEW
The details:
NO-ZIP, push-button entry; quickly lock and unlock doors without fumbling with difficult zippers

Dual-entry, pet can be loaded from front or rear entry, does not have to turn around to exit the stroller, a huge benefit for older or injured pets

Multi-position handle lets you adjust the handle height to your comfort

Spacious protective pet compartment, great for larger or multiple pets, folds flat in seconds for easy transportation or storage
My Experience Putting This Together:
Super easy to assemble. There are instructions but you won't need them. All you have to do is click in the 4 wheels. That's it!
It may take some getting used to, to open the front and the back door latches. I've found that the back door latch opens and closes more easily for me.
The whole thing folds closed and opens super easily.
In general, this is incredibly well-designed and well-made.
WHAT I LOVE
Wink can walk on a leash until he gets tired, and then I can easily pop open the back door for him to hop in. I got the XL size so I could fit his bed and he would have room to move around if he wanted.
The big screen size allows Wink an almost 360-degree view.
I can open the top screen so he can see me better and I can see him better.
It's easy to push and navigate.
The brake is a foot pedal that's super easy to use.
If we're walking and I see an unknown, unleashed dog approaching (yes, it can and does happen), I can pop Wink into the stroller for safekeeping. No fuss no muss.
WHAT I HATE
Nothing. Even though this stroller is not cheap, I would buy this again in a heartbeat.
If you love to walk and have an old or injured dog that you want to be able to safely and easily take with you, this is the answer.