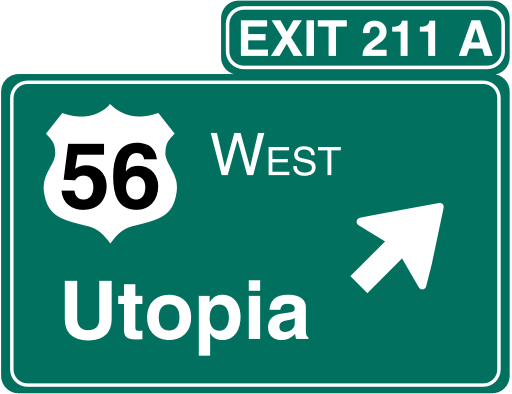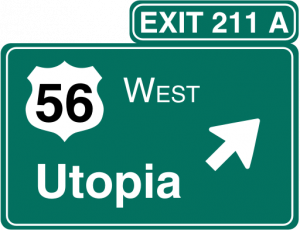 Spring cleaning is well under way around here. There are several projects already in varying stages of completeness. Living in an old farm house means there's a never-ending supply. Fortunately, Cait usually likes to help. It's a chance for us to have some uninterrupted talk time, while I apprentice her on the finer points of home repair.
As Cait and I were painting , the subject of one of her school projects came up. Her assignment was to create a utopia. I asked her how it was going, thinking that would be a fun assignment. To my surprise, she complained that it was an impossible task.
I asked her to explain. She said that for every utopian idea she had, it created several more problems that would need to be solved. The conversation fully engaged us for the entire time it took to finish our painting.
But it got me to thinking…
At some point in my life — I keep saying when I'm in my 70s– I plan on starting a school. A utopian school. A school that children couldn't wait to get to in the morning, and wouldn't want to leave in the afternoon. I've spent years reading and researching and collecting contacts, so that when I'm ready to get going I'll have a lot of the leg work already done.
While the 3 R's would be taught along with other traditional subjects, they would be taught in non-traditional ways, where books would play a secondary role to direct experience.  On sunny days, classes would take place outside.  Life skills would also be taught, along with an emphasis on maintaining a close connection to the natural world. And so on and so on. In other words, I'd take the best of Montessori, Waldorf, public school, private school, and home schooling and ditch what doesn't work.
I would only hire the best of the best teachers and I'd pay very high salaries, because I'd have very high expectations of them. I'd accept no union teachers because I'd reserve the right to hire and fire based on performance. "Classrooms" would be set up more like "Life" rooms. There would be multiple adults and varying ages of children combined in small, fluid groups that would shift and change based on what was being learned.
That's just a small peek at what I have in mind.
As I'm always looking to pick up more ideas, let me ask you — if you could create a school from the ground up, what would you include and throw out? What do you think is important for a good education? I'd love to hear.