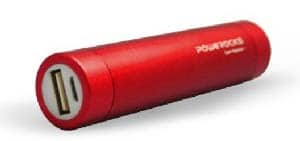 You guys know that I'm a little bit of a nut about safety. Especially when my daughter is involved. So when I was offered a chance to try out this Powerocks portable battery charger in exchange for an honest review, I agreed. Nobody has to ask me twice to test a cool new gadget. : )
 Don't you just love it when a product is useful, portable, easy to use, and does what it says it will do! This little charger will give you up to 2 charges for your cell phone. (Though it says that you can charge any portable device that can be charged with a USB cable, I can't comment on that as I've only used it for my phone so far.)
Now, whether on a long hike, or just caught with a low battery, I know Cait has a way to keep her phone working no matter what. What's that worth to me? Way more than the Powerock's price of $30!
[fusion_builder_container hundred_percent="yes" overflow="visible"][fusion_builder_row][fusion_builder_column type="1_1″ background_position="left top" background_color="" border_size="" border_color="" border_style="solid" spacing="yes" background_image="" background_repeat="no-repeat" padding="" margin_top="0px" margin_bottom="0px" class="" id="" animation_type="" animation_speed="0.3″ animation_direction="left" hide_on_mobile="no" center_content="no" min_height="none"][expand title="Continue Reading"]
PROS
Gives up to 2 phone charges (Its realistic to expect 1 full plus 1 partial charge based on my experience–but in an emergency, 1 can make a big difference).
It comes in several colors and at 3.5 x 1 inches, it fits easily into a pocket, pocketbook, or car compartment.
It is compatible with the iPhone, Blackberry and any other portable devices charged via USB cable.
Powerocks is easily rechargeable via the included micro-USB-to-USB cable
Smart push-button LED shows charge status. Blue light = 70% – 100% full, Green light = 30% – 70% full, Red light = 1% – 30% full
CONS
The Powerocks takes several hours to fully recharge itself.
Though not technically a con, be aware that all batteries discharge over time, so remember to check on the charge monthly.
The Powerocks has made it to the top of my must-have and thoughtful-gift lists.
[/expand]
[/fusion_builder_column][/fusion_builder_row][/fusion_builder_container]