After two days of reasonable winter temps, we're headed back for another brutal cold snap. All kidding aside about Graidy and Wink being winter wusses, they both have conditions that make the cold and snow more difficult for them to handle. Both  have very fine, single layer coats with little insulation value (versus Kiera's thick 2-layer winter coat with undercoat). Graidy, at 10 yrs old, has a touch of arthritis and Wink's short legs often put his underside in direct contact with the snow.
The easiest solution is to keep dogs inside except when they need to relieve themselves.
But what do you do when you have a dog with high exercise needs, like Australian Shepherds or Border Collies? Well, this is what I did.
K-9 Overcoat™
Abrasion-resistant insulated jacket
RUFFWEAR DESCRIPTION
The Ruffwear K-9 Overcoat™ is our classic cold-weather utility jacket. Sturdy, durable materials keep up with the most active dog. Wind- and water-resistant outer fabric keeps the elements out, interior fleece layer keeps body heat in. Auto-lock buckles on each side provide easy on/off.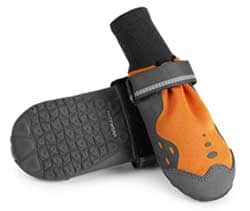 Summit Trex™  Everyday paw protection
RUFFWEAR DESCRIPTION
(Set of 4 dog boots)
Summit Trex dog boots provide everyday traction and paw protection from extreme temperatures, abrasive surfaces, and salt or other snowmelt chemicals. The Ruffwear-designed outsole provides flexible traction while an integrated stretch gaiter protects legs and locks out dirt and debris.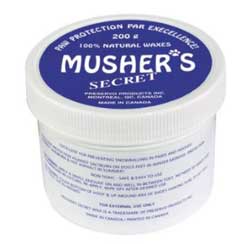 Musher's Secret
AMAZON DESCRIPTION
This easy-to-apply all-natural wax-based cream protects paws from harsh surfaces. Protect paws from sand, hot pavement, ice and salt with all natural 100 percent wax-based cream. When applied to pads and between toes, dries in seconds to form a semi-permeable shield. Non-toxic, non-allergenic, non-staining formula can be used weekly or as needed to prevent abrasions, burning, drying and cracking. Perfect for mushing, hunting, walking or before any outdoor activity. Acts as an invisible boot to prevent potential paw problems. Easy-to-apply formula contains vitamin E to moisturize and help heal wounds and keep paws healthy. Available in pack of 7-ounces. Measures 3-4/5-inch length by 3-4/5-inch width 3-4/5 height.
Here are some additional conditions from the AVMA  to be mindful of:
Know the limits:  Just like people, pets' cold tolerance can vary from pet to pet based on their coat, body fat stores, activity level, and health. Be aware of your pet's tolerance for cold weather, and adjust accordingly. You will probably need to shorten your dog's walks in very cold weather to protect you both from weather-associated health risks. Arthritic and elderly pets may have more difficulty walking on snow and ice and may be more prone to slipping and falling. Long-haired or thick-coated dogs tend to be more cold-tolerant, but are still at risk in cold weather. Short-haired pets feel the cold faster because they have less protection, and short-legged pets may become cold faster because their bellies and bodies are more likely to come into contact with snow-covered ground. Pets with diabetes, heart disease, kidney disease, or hormonal imbalances (such as Cushing's disease) may have a harder time regulating their body temperature, and may be more susceptible to problems from temperature extremes. The same goes for very young and very old pets.
If you've found any tips or special gear that you love, please share!