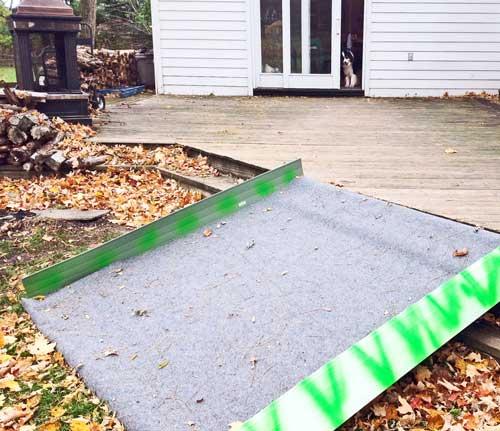 It's been a month since Kiera got hit with Vestibular Disease. As most dogs resolve on their own within two weeks, it's looking as though Kiera has probably improved as much as she's going to. Which means she's permanently left with the head tilt and unsteady gait. Which means no more stairs. Which means we now live with ramps everywhere inside and out.
Which gives me a new business to start. Because the ramps that are available for sale are… what shall I say… worthless for older dogs. Aside from being overpriced, they're way too narrow and rickety.
Because Kiera is pretty wobbly when she walks, she needs an extra-wide ramp so as not to topple off the sides. And it needs to feel very sturdy underfoot with no give so that she doesn't panic when she walks on it. And because she's also nearly blind, I needed to add the reflective paint in patterns to help her peripheral vision be able to pick up where the edges are.
Welcome to our new normal.
If you're interested in building a ramp for your dog, I used a sheet of 3/4″ composite plywood that's used for roofing. I had it cut to 6×6, which gives a gradual enough angle for 2 deck stairs. Then I covered it with an indoor/outdoor carpet. For side bumpers, I used a sheet of plastic privacy screening and cut it in half.