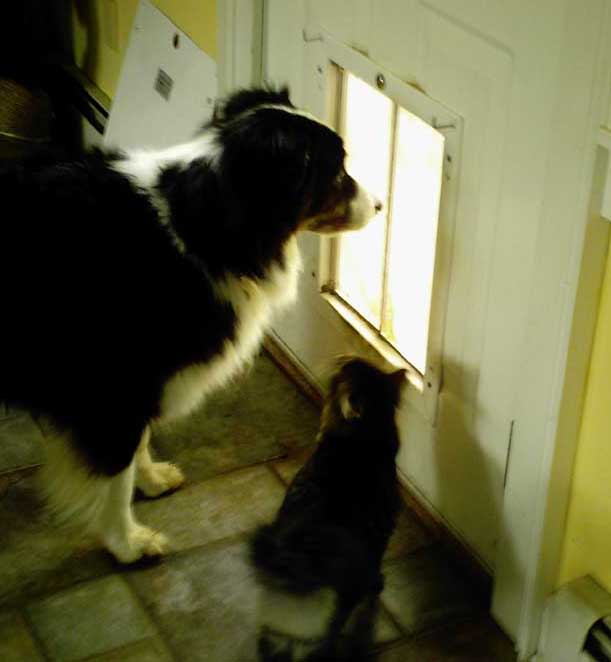 Back when Finn was just a little thing (now he's almost as big as Graidy), he followed Kiera everywhere and wanted to do everything she did. Including using the dog door.
He never quite figured it out and got stuck a couple of times half way in and half way out. Kiera would push him back in with her nose.
Now that he's a big guy, he'd give anything to get to go out. But we have too many wild animals that would quickly make him lunch, so we don't let him out — on purpose, that is…
These days, he's taken to hiding right behind our feet and shooting out the door as soon as we open it. Makes letting Kiera and Graidy in and out interesting, to say the least.
When he gets outside, he gets so excited he doesn't know what to do first — run to the back of the property? Run up the tree? Run under the bush?
Fortunately, while he stands there thinking about it, we have plenty of time to race out and nab him.
Someday, I'll put up a chain-link area (he could get out of the fence we have now with no problem) so he can safely enjoy the outdoors. That'll keep the ground hunters away. And I'd just like to see a hawk or owl try to get him with Kiera on duty. No way, no how. In the meantime, we take him out for short grass munching and tree climbing sessions. We stand near and watch so we can grab him if he tries to make a run for it.
Yes, my Finny boy will eventually get to have his day in the sun.