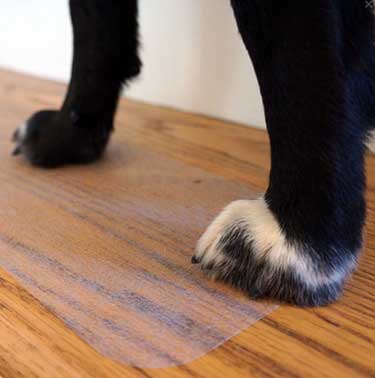 When I was asked to try out these Puppy Treads, made by Handi-Ramp  in exchange for an honest review, I jumped at the chance!
You see, I immediately saw these non-slip, self-adhering, clear vinyl strips as having the potential to solve multiple problems for dog owners with wood floors. (More on this in a moment.)
But first, here's the low-down from their site:
6″ wide x 24″ long
Practically Invisible
Easy to clean
Easy on feet and paws
Leaves no sticky residue when removed on most common surfaces
Resilient.  Long lasting in heavy foot or paw traffic
Mop friendly
No fasteners required
NFSI – National Floor Safety Institute certified for "High Traction"
I can attest that all of the above is true. These are very easy on the paws and feet (my dogs had no trouble acclimating at all to these), and they don't leave any stickiness when you take them up. But they're not like clings that you can then just move somewhere else; they do lose some adhesive ability after you pull them up. So make sure you place them where you want them to be for a while.
But as for "practically invisible," I'd have to qualify that and say that really depends on the color of your floors. The lighter your floor, the more they'll blend in and be less noticeable.
They work great on stairs, absolutely. For puppies, for older dogs, and for elderly humans. They're very thin so there's no "tripping" factor for elderly dogs or humans, and they offer just the grip you'd want to help prevent slipping or sliding.
BUT, they also work fantastically for those corners of your home where your dogs careen around in a race to get wherever they're going. For us, that stretch is coming down the upstairs hallway to make a sharp left to get down the stairs. It's their version of a Nascar race track. I wouldn't have to point it out if you came to visit, because the years of claws digging in for traction to make that tight corner at high speeds are evident from all the scratches in the floor.
I've been thinking about what I could put there to protect the floor that wouldn't skid (rugs failed this test), and these are just the ticket! They're unobtrusive, they really are non-skid, and they protect the floors.
So long story short– my dogs are happy and I am very happy. This is a great product and I can recommend it without reservation.
You can purchase them as single treads for $8, packs of 4 for $30, or packs of 10 for $70. Way cheaper than pulled ham strings, broken bones, or refinishing floors.
The Handi Ramp company has also given me a 10% discount code that you can use if you want to buy some.
10% discount code is: BLOG2015
Enjoy!