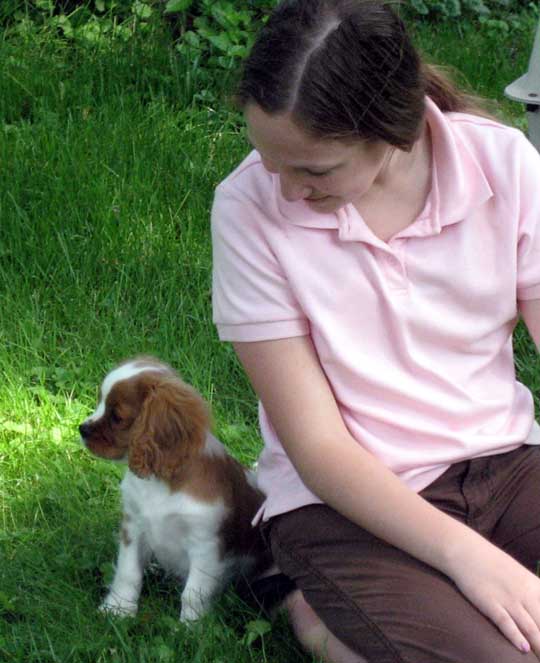 Wink has been with us for three weeks now. He is as sweet a dog as I have ever come across. He's so cute and cuddly and full of love that everyone who meets him can't help but say, "Awwww…"
And then they can't help but pick him up, for which they'll receive a tiny face bath for their troubles.
Friends have threatened to slip him into their coat pockets and steal away with him.
His mere presence makes grown men make silly faces and cooing sounds.
Like a helpless baby, this puppy brings out the nurturing, protective side in everyone who lays eyes on him. Yes, that even includes Andrew. Don't tell him I've told you, but more than once I've seen him laughing out loud at Wink's adorable antics. He even scoops Wink up to hold him on his lap. This is the power this little dog holds.
Interestingly, I've discovered, it's not the kind of power that holds much sway over me. It's not that I'm immune to Wink's special charms because I'm not. It's just that, when it comes to dogs, there's a deeper power that moves me.
This is what leaves me in awe.
It's the power of her intelligence.
Oh, sure, beauty doesn't hurt; she is achingly beautiful to me. As well as incredibly agile and athletic. But those are just sideshows.
What moves me about Kiera in a way that no other dog has is the profound sense of partnership she provides.
You see, Kiera and I are in it together — we share a sense of interrelationship where each of us derives an acute sense of well-being, rightness, and safety from being together in what can sometimes seem an impossibly difficult world.
So while Wink is sweet and wonderful and perfect for Cait, and he has the "Awww" factor to the power of ten, he doesn't have what I need.
What is it I need? I need a dog that I know will brave the elements, go through thick and thin, and walk to the ends of the earth with me. I need a dog who is as keyed into me as I am to her. There's something very essential and primal about it for me.
And, lucky for me, that's exactly what I have with Kiera.
How about you? What is the essential quality you need from a dog?