It's been a loooooong time coming. Three years, to be exact.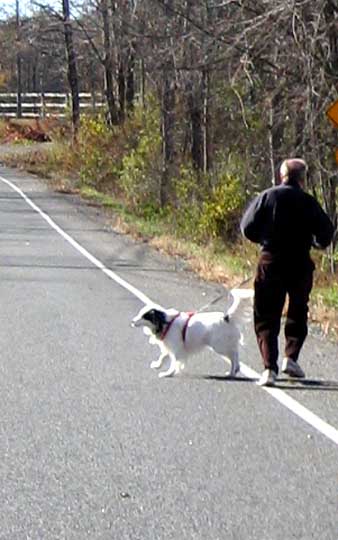 Graidy loves to run — lives to run. And, for years, was happy doing laps around our fenced three acres. But, recently, he's been interested in expanding his horizons, and has acquired a new favorite running buddy — Andrew. (I'm too slow for him. But with Kiera getting older, I'm just right for her. We're bringing up the rear.) As you can see, Graidy is still learning how to stay inside the white line. That'll come with time.
Way back when, Graidy came with the usual rescue baggage. One of his issues was that he couldn't leave the property by car or on foot without having major panic attacks. You know the kind — instant spewing from both ends, as his body emptied itself in it's fight or flight panic response.
I outlined the procedure for acclimating him to riding in the car here. He's a real trooper now. Getting him to be able to walk off our property and away down the road has taken longer, but was essentially the same process.
The key to success with both endeavors was to progress in tiny increments — in other words, at a pace Graidy was comfortable with. And it was important to make sure I listened to him when he told me he'd had enough for that session, for that day. Even if him telling me he'd had enough came a few minutes into whatever we were doing. I believe it was that combination of time and patience that allowed Graidy to build a rock solid trust in us. A trust that now allows him to go anywhere and do anything.
If you were to meet him today, you'd find no signs of the scared, worried dog who arrived here that first day. All it took was a little love and good communication.