I've been a little under the weather, and wanted to make myself a healing soup that wasn't the usual boring Chicken Soup. This Seafood Curry Chowder, with its Indian spices (which helps open breathing passages) and chicken broth (general fixer-upper elixir) gives a one-two punch!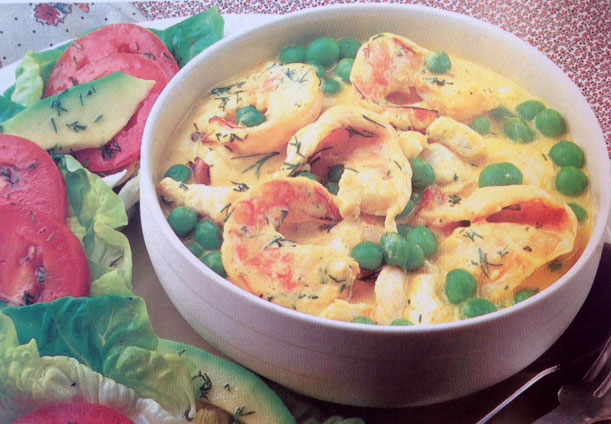 BUT…
It's so rich and delicious and special–and SIMPLE to make–that you could serve this at any dinner party and get rave reviews. It's my family and friends' all time favorite soup!
1 fillet of flounder (about 11 ounces)
1 fillet of halibut, scrod, or cod (about 8 ounces)
1/2 pound medium-size shrimp (10 to 12), shelled and deveined
2 tablespoons lemon juice
4 tablespoons unsalted butter
1/4 cup flour
1 teaspoon curry powder, approximately
2 cups fish stock or clam juice
2 cups chicken stock
2 teaspoons salt
1 teaspoon freshly ground pepper
1/2 cup frozen sweet peas, thawed
1/2 cup heavy cream
2 tablespoons finely chopped dill
1. Wipe fish fillets with damp paper towels. Cut halibut into 1/2-inch pieces. Cut flounder into 3/4- inch pieces. Cut shrimp in half lengthwise. Transfer fish and shrimp to medium-size bowl, sprinkle with lemon juice, and toss to combine. Set aside.
2. In a large soup pot, melt butter over very low heat and whisk in flour and curry powder until thoroughly blended for 3 minutes.
3. Whisking constantly, slowly stir in fish stock or clam juice and chicken stock. Add salt and pepper and bring to a boil over med/high heat. Reduce heat, cover, and simmer 10 minutes.
4. Add fish, shrimp and cream and continue to simmer about 4 minutes. Add peas for last minute.
5. Remove pan from heat and whisk in dill.
6. Serve with a side salad and a good crusty loaf of French bread.
(Recipe from one of my all-time favorite cookbooks:
Great Meals in Minutes)