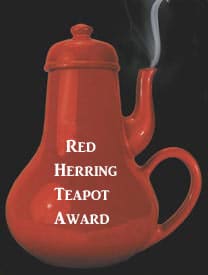 I was raised by a father who taught me how to be creative, resourceful, and self-reliant. There's little I can't fix and not much that I can't build–up to and including completely renovating a house by myself.
All the tools in the garage (and there are lots) are mine. In other words, I'm handy. And I love to invent things and improve on things that are less than perfectly designed.
Which also makes me a little bit of a gadget freak. I'm always looking for the next perfect tool or solution. So I thought I'd create a separate category for reviewing products that I've tried. Some will be fantastic and some–like today's–will get my newly invented Red Herring Teapot Award.
First let me say that any kitchen gadget store, building supply store, and computer/stationary store are all stores I purposefully try to avoid because they're like crack for me. Really. I start hyperventilating with excitement at the specter of all the great things I could do with that stuff.
But I had to enter Bed Bath & Beyond a few days ago to pick up a baby shower gift. And, yes, I had to walk through the kitchen gadget section first to get there. Which is where I spied this.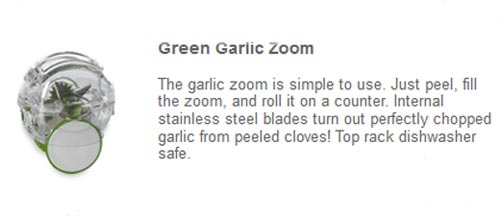 Looked like just the thing for quickly mincing garlic without the use and cleanup of a knife and cutting board.
Yeah… No. The cannister doesn't hold much. And unless you have a rough counter surface, getting the wheels to roll to mince the garlic ain't gonna happen. Even then, getting the first few chops going requires a little strong-arming. Even though it disassembles easily, it's not easy to get all the garlic out.
Bottom line: Once you get it going, it does uniformly mince the garlic, but I could have chopped more garlic by hand more quickly. The Garlic Zoom gets the Red Herring Teapot Award. Save your money.
Have you found any perfect tools you can't live without?