Graidy, my border collie mix, is 14ish now. Wink, my Cavalier, just turned 9. And Finn, though not technically a dog but a Maine Coon cat with a dog's spirit, is 12.
I've noticed the most significant changes in Graidy. He's mostly deaf and nearly blind, and he's slowed down to a trot from a non-stop gallop. He often stumbles on the stairs now.
And while Wink still seems to be going strong overall, he's happy to lie quietly and sleep most of the day.
Finn is the only one who seems to be defying his age.
So… We've had to make some changes to accommodate their needs.
Comfy Dog Bed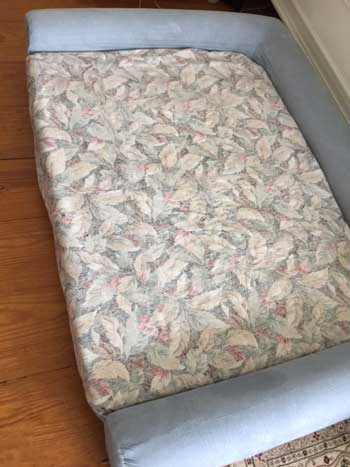 First, this is absolutely the best dog bed EVER (KOPEKS Deluxe Orthopedic Memory Foam Sofa Lounge Dog Bed, X-Large, Grey). And I've tried them all. No, it's not the cheapest — I've been through all the cheaper ones and wound up giving them away because Graidy wouldn't use them. So the cost was worth it to me because he uses it.
Previous to getting this, he spent most of the night pacing because he couldn't find a comfortable spot that both supported him and was long enough for him to stretch out on.
Now, he mostly settles for the night. I say mostly, because he's always been a light sleeper and early riser. Those two facts haven't changed, but I'm getting more sleep not having to listen to him pace all night.
Here's some info:
Great For Pets With Arthritis or Joint and Muscle Issues
DIMENSIONS: 40"L x 56"W x 8.5" Thick 100% Memory Foam | SLEEPING SURFACE – 33.5"L x 43.5"W x 7"H Thick 100% Memory Foam
DOUBLE LAYER PROTECTION!!! SLEEPING SURFACE: 7" Thick Orthopedic Memory Foam with a Waterproof Fabric Zippered Cover EDGE: 8.5" Thick Orthopedic Memory Foam with a Waterproof Fabric Zippered Cover
EXTERIOR COVER: Soft, Plush Suede with an Anti-Slip Bottom Zippered Cover – PREMIUM MEMORY FOAM: HYPO-ALLERGENIC – Compare to Therapeutic Foam Found in High End Mattress Stores
Downstairs Sleeping
And on the nights where Graidy can't quite seem to make it up the stairs, we all pile on our downstairs setup for the night.
No, I won't leave him downstairs alone after he's slept in the same room with me for 14 years. So we have a little pajama party on those nights (which are becoming more frequent).
During the days, it becomes a fun play spot for them. Not to mention the perfect look-out spot to better see out the window.
Dog Gates
When I have to go out, I gate the stairs now so that I don't have to worry about anybody falling up or down the stairs.
Because both Graidy and Wink often stumble now, I won't let them use the stairs alone. If I'm right there, I can catch them and help them keep going safely in whatever direction they started.
So ultimately what does this all mean for us? We're looking for a house on one floor. The time we have left is precious. I'm not going to waste a minute of it stressing about a 2-story challenge.