I just had a visitor complain about how she hates that when you download Dropbox to your desktop, it can eat up all your memory. She didn't like how all her photos were bogging down her computer.
There is a simple way to choose what folders you'd like to keep synced on your desktop, and which folders you'd like to just keep in the cloud (which means that you can only access these folders by logging into Dropbox online).
How to choose which Dropbox folders you want to keep on your desktop by turning on Dropbox selective sync:
Click the Dropbox icon from the system tray or menu bar.
2. Click the gear icon, and then select Preferences… from the menu.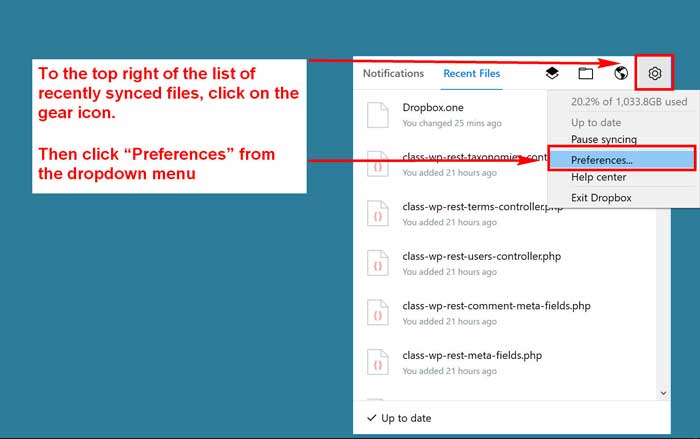 3.  Click Sync and then Selective Sync.
4.  Click Selective Sync… (Linux and Windows) or click Change settings… (Mac).
5. A window will appear with a list of all the main folders in your Dropbox folder:
The folders with a check next to them are synced to your computer.
6. Uncheck any folders that you don't need to sync to your computer's hard drive.
Folders you uncheck will be removed from your hard drive, but will still be available on dropbox.com and on any other computers linked to your Dropbox account.
7. When you're done, select OK.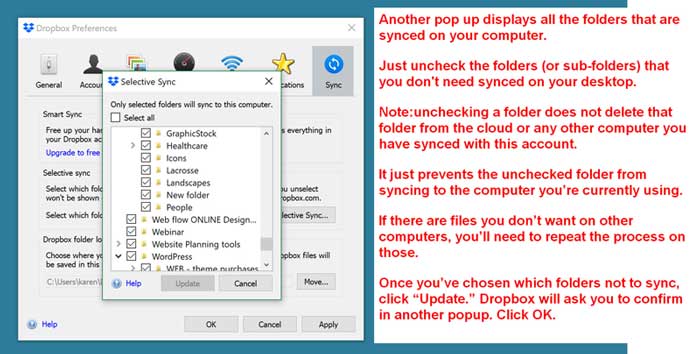 Need more help? Check out Dropbox's selective sync overview page.