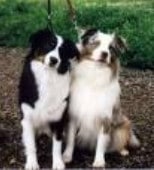 I've been getting a lot of emails and comments lately on these two posts  Five Facts You Need to Know Before Choosing an Australian Shepherd and Bringing Home an Australian Shepherd Puppy: What You Need to Know.
There are many wonderful people out there who think their lives might be enriched by sharing their lives with an Aussie, and they're asking my opinion.
So who would make a good match for an Aussie and vice vera?
I'm going to try to be as kind and direct as I know how to be. Give yourself 1 point for each YES answer.
Have you previously owned and SUCCESSFULLY trained at least two dogs prior to […]