How to Find Your Inner Teacher
In this section, you'll find blog posts related to How to Find Your Inner Teacher. Topics include learning how to pay attention in order to make perception shifts to become more awake, deepening our spirituality and connection to nature, as well as developing a strong connection and conversation with our inner teacher.
Use the right sidebar Articles Menu to find full-length articles and transcribed excerpts from Karen's classes.
I recently got asked, "Why do I keep seeing repeating numbers? Does it have a spiritual meaning?" In this case, this person was seeing the same time on the clock every day at 1:11, 3:33, and 4:44 day and night.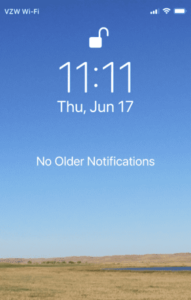 I have to laugh, because—case in point—when I went to check her text for her numbers series, this was on my phone home screen. This is a well-documented synchronicity phenomenon that I'll explain in a moment.
It's just that some people will try to tell you these sequences or series of repeating numbers do have great spiritual significance and are "angel numbers."
While I'm all about the spiritual, in this instance when there are […]